ILTA>ON is underway. It began yesterday with some great sessions including my personal favorite, a sneak peek at the forthcoming ILTA technology survey. For a great recap of that session see the summary by David Horrigan Discovery Counsel & Legal Education Director of Relativity at https://twitter.com/i/events/1297958325821243392. David also had a great interview later in the day with Doug Austin of eDiscovery Today which you can see at https://www.linkedin.com/video/live/urn:li:ugcPost:6703770787574267904
Attendance is high with over 2395 attendees reported on line Monday and over 90 vendors in the Solutions Center, all featuring live Zoom chat capability form 8AM to 5PM every day. Great feature!!
The keynote today is Ted Talks superstar Jia JIang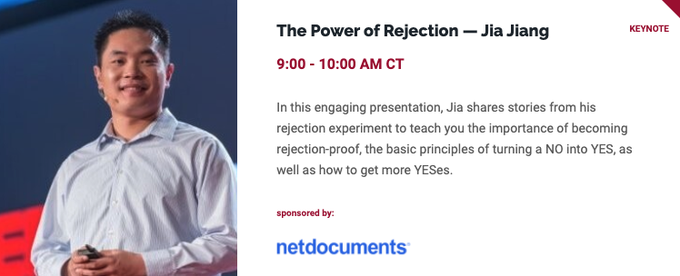 and for a list of all the other sessions see the great daily overview form Doug Austin at https://ediscoverytoday.com/2020/08/25/tuesday-happenings-at-the-ilta-on-virtual-conference-ediscovery-trends/.
Daily passes are available at https://www.iltaon.org/home?ssopc=1#tickets ($99 for members, $199 for non-members) so don't be afraid to zero in on the specific sessions you'd like to see.
I'll be back later today with more feedback …..